Zzzax
From Multiversal Omnipedia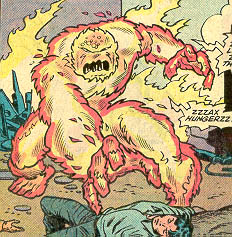 For other uses of this name, see Zzzax (disambiguation).
Zzzax is a male comic supervillain who features in Marvel Comics.
Biography
Zzzax was a creature, made from living electricity, given form by a freak accident in a nuclear power plant caused by a terrorist attack. It named itself Zzzax after hearing the sound he made. As one could guess, he possesses a formidable amount of electrical power, and can drain more to strengthen himself, including the electrical impulses that make up a person's mind (whereupon he gains their memories). Zzzax has battled the Hulk and the Avengers on several occasions.
One of his most notable battles was when he was merged with the intellect of General Thaddeus "Thunderbolt" Ross, and fought the Rick Jones Hulk. Ross' intellect eventually returned to his body (with a small portion of Zzzax's power). Zzzax went on to battle such varied foes as Iron Man, the Midnight Sons and Cable since that time.
Overview
Personality and attributes
Powers and abilities
Notes
Zzzax was created by Steve Englehart and Herb Trimpe where he made his first appearance in Incredible Hulk v1 #166 (August, 1973).
In other media
Television
In The Incredible Hulk, Zzzax appeared in the 1996 animated television series where he was voiced simultaneously by actors Michael Bell, Leeza Miller McGee, and Kevin Schon.
Films
Video games
Appearances
External Links
This article is a stub. You can help Multiversal Omnipedia by expanding it.